Millie Flanagan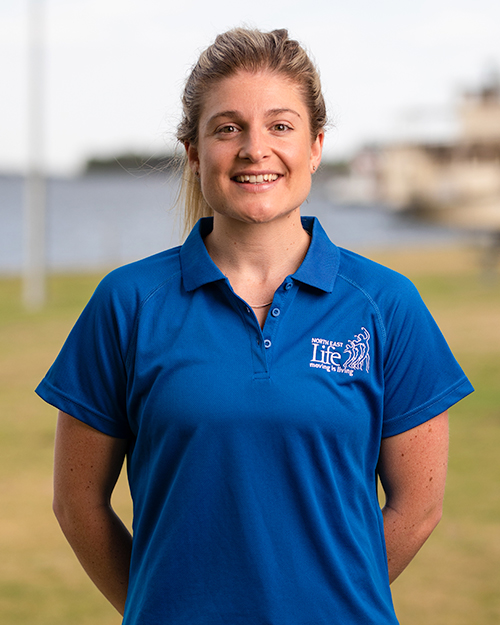 Director, Physiotherapist and Women's Health Physiotherapist
Completing a Double Degree in Sports and Exercise Science, Human Development and Sport and Recreation Management on top of her Physiotherapy degree, Millie is a lover of all things sports and fitness. 
Millie has completed her postgraduate Sports Physio course as well as being a certified Netball KNEE prevention Physiotherapist and as such, is passionate about sports injury prevention. Being a keen netballer herself, she knows all too well the importance of getting back out on the court or field ASAP. Need a pre-season plan? Review? Return to sport guide post injury? She's got you covered for a speedy return.  
A firm believer in a well-rounded exercise regime, Millie frequents her local gym classes, loves a Sunday morning long run and has a special interest in Pilates. She has completed her Part A and B DMA Clinical Pilates course and incorporates sport and rehab specific exercises into her patient centered programs.
Sore back or neck? Millie has completed her McKenzie Part A and B spinal course that has given her extra knowledge in the spinal field to thoroughly assess your back and neck and treat you with the most recent literature and evidence-based treatment. 
Having experience working in the field of Occupational Rehab Physiotherapy, Millie is also equipped to turn those job sites into an ergonomic dream. She is happy to present, educate and liaise with any workplace regarding the health and safety of their workers and help prevent injuries in the workplace. 
Millie has also completed post-graduate study to become a Women's Pelvic Health Physiotherapist. She is passionate about pre- and post-natal healthcare and supporting women in every stage of their lifespan to live the best, healthiest and most active versions of themselves, all whilst looking after their pelvic floor.