Life! Diabetes Prevention Program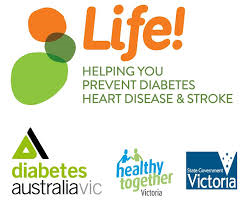 Diabetes, Heart Disease & Stroke Are Preventable
North East Life is an accredited provider of Diabetes Australia's Life! Diabetes and Cardiovascular Disease Prevention program.
The Life! program is funded by the Victorian Government, managed by Diabetes Australia and delivered by accredited course facilitators at our Benalla and Wangaratta clinics.
There is no charge to eligible participants.
The Life! program supports you to take control of your life, teaching you how to adopt healthy behaviours and a more active lifestyle to reduce your risk of type 2 diabetes, heart disease and stroke.
After an initial one-on-one introductory session, you will be offered inclusion in the next available course which consists of 5 1hr 30min sessions in a group setting. You will receive:
A program that is proven to work. Studies show it is possible to prevent type 2 diabetes and greatly reduce your risk of developing heart disease and stroke by improving your diet and being more active. It has been proven that making these lifestyle changes has a long-term positive effect on your health.
Expert coaching by health professionals including dietitians and exercise professionals.
A customised plan to help you to change your lifestyle to reduce your risk of type 2 diabetes, heart disease and stroke.
Reduced risk of other diseases. The lifestyle changes you make in the Life! program will help you manage and prevent other medical problems too.
Support and help. We want people to feel good about their decision to improve their health and we'll support you to achieve your health goals every step of the way.
Since 2008 over 30,000 Victorians have learnt more about steps they can take to live a long, healthy life. Why don't you?
Programs Delivered in Benalla, Wangaratta and Yarrawonga.