Clinical Pilates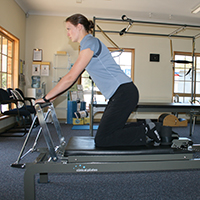 Exercise is the Catalyst to Strength
Stand tall
Move with confidence and flexibility
Your needs are individual
Create your better quality of life

North East Life Clinical Pilates is
Evidenced-based exercise that is prescribed to suit your individual needs and to keep you moving through life.
We work with people who have issues with movement or pain, and with those wishing to improve their general well-being.
Our physiotherapists are experts in developing, monitoring and progressing exercise that is specifically tailored for you, and supervised by us.
Clinical Pilates can be used to benefit people of all ages for:
Relief of back, neck & spinal pain
Improving posture & core trunk stabilising muscles
Increasing muscle strength & joint flexibility
Sports injury prevention & management
Improving movement for arthritic conditions
Better balance reactions
Regaining pelvic floor function
Clinical Pilates is:
Prescribed exercise aimed at targeting specific stabilising muscles that will restore function and relieve pain, so your body can move well.
Specific – your Clinical Pilates-trained physiotherapist will do a thorough musculo-skeletal assessment, and use evidence-based exercise prescription that is specific for your physical needs. We may use specialised spring-loaded equipment to enhance 'control', prior to developing strength.
Supervised – you will receive fully supervised exercise by qualified health professionals.
Scientific – you are guaranteed expert diagnosis by physiotherapists, based on latest scientific research. Core stabilisation training and efficient trunk muscle function has been shown to assist recovery and importantly, reduce the risk of injury. Current scientific research shows that targeted individual exercise programs, designed and supervised by a physiotherapist, are an effective way to treat a number of conditions.
Individualised – in order for you to reach your goals a personalised exercise program will be developed, monitored and progressed by our physiotherapists.
North East Life Clinical Pilates is very proud to be able to offer this proven approach to our clients, providing you with our clinical expertise in this exciting and innovative style of exercise rehabilitation.
Our team of physiotherapists have undergone extensive Clinical Pilates training, ranging from Level 1-4 qualifications. They have the detailed knowledge and skill required to safely design you a specific program, whatever age, to keep you moving.
You will require at least five individual sessions with the physiotherapist to develop and learn your program. A home program may also be developed.
The pathway of progression involves continuing your individualised program within a small supervised group environment. The advanced option of independent sessions within the Studio applies to clients who are competent to work unsupervised.
One-on-One Consultations
Supervised Group Sessions
Independent sessions & packages
Rebates are available under private health insurance which can be claimed electronically on-site. Eligible clients may be covered under DVA, TAC, Workers Compensation and EPC schemes.
To find out more about how you can benefit from doing a Clinical Pilates program, contact us today.
Baby Bodies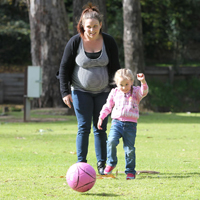 Energise Your Child-Bearing Years
This program is based on a balanced exercise program designed for women of any stage of pregnancy and those recovering in the 12 months after delivery.
This specific exercise program has been developed by a physiotherapist with a special interest in women's health.
What will I be doing?
A warm up to prepare your body for activity
Core stability using Clinical Pilates equipment
Specific strengthening exercises that target muscle groups most affected by pregnancy
Postural awareness exercises to prevent the onset of pain and injury
Flexibility and mobility exercises for home
You will also receive practical and useful information on:
Exercising safely
Dealing with pregnancy related discomforts
Back and neck care
Improving your pelvic floor muscles
Choosing equipment for your baby
Bone Builders
Be An Active Senior
North East Life's Beat The Break program is a progressive resistance exercise program aimed at improving bone health and reducing the risk of osteoporotic or osteopaenic fractures.
The program is scientifically evidence-based and designed by physiotherapists who fully supervise the exercise sessions.
The exercises are done mainly but not exclusively on spring-loaded equipment to provide progressively increasing resistance in a safe setting which will help you to achieve:
Enhanced bone metabolism
Improved trunk and core stability
Improved postural awareness
Improved balance skills.
Spine and Core Stability
improve posture & movement
reduce back & neck pain
find relief from discomfort
improve flexibility & body toning
Strength & Balance
It's Never Too Late To Improve
The biggest single cause of hospital admissions for people over 65 years old is falls. North East Life's Strength & Balance program is a specially researched exercise program to reduce the risk of falls in the older person particularly.
The program is delivered in a group setting, fully supervised by a physiotherapist and consists of an agreed number of 45-minute sessions usually over 6 weeks.
Participants are individually assessed, an individual program developed and progress is documented. The program is designed to reduce an individual's risk of falls by:
Improving balance skills
Increasing general body strength and endurance
Improving flexibility
Improving safe mobility
Support your core in sport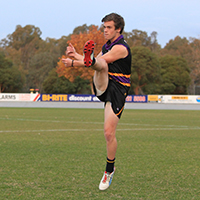 core control takes you further & higher to perform at your peak
be stronger for longer in sport
Women's Wellness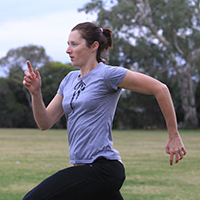 resolve pelvic girdle & back pain
re-activate your abdominal muscles & pelvic floor control
Clinical Pilates studio times

Benalla

Wangaratta

Yarrawonga